This Week in Automotive Lighting 8/3/17
Every week, we will put together some great resources and news in the automotive lighting industry (and related areas) we think you'll enjoy. Welcome to the first week!
Magneti Marelli Profile on D'Marge
The dmarge.com site took a look at the history and technological advancements of lighting manufacturer Magneti Marelli. These include being the first company to install full LED headlamps in a motorcar.
---
Interview with Hella's Head of Driver Assistance
Just Auto's Matthew Beecham sat down with Carston Roch from Hella, asking him about the future of automotive lighting and Hella's plans for the future. A great read!
---
McLaren launches the 720S at Geneva, with full LED headlamps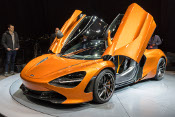 This week saw the beginning of the Geneva International Motor Show 2017, and McLaren have so far stolen the show with their impressive 720S model. One of the striking features of the vehicle, besides its 212mph top speed, is the introduction of full LED headlights with 17 individual bulbs in a strip. The headlight area itself is huge - really creating a great front-look.